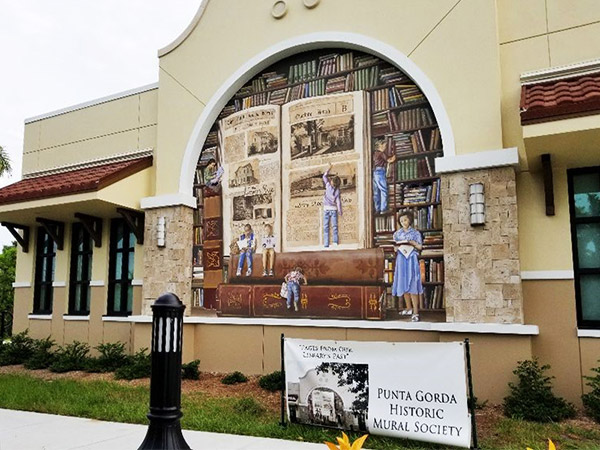 The "Pages from Our Library's Past" mural on the side of the new Punta Gorda Charlotte Library on Shreve Street is The Punta Gorda Historic Mural Society's 30th mural. The 15 foot by 15 foot mural was painted by artist Skip Dyrda.
The two-page scrapbook in the center of the mural presents real newspaper articles telling the story of the library's history dating back to 1908. All five previous library buildings have been captured along with text that draws the reader in to take a closer look. A librarian and kids of all ages sit and climb their way around the stacks and shelves of books surrounding the history. Interesting titles on the book spines encourage kids of all ages to read.
When taking a closer look, there is a small blue smurf holding a paint palette and a little red string. The string is the signature style of a Dyrda mural.
"It represents a connection between the artist and the work, and the work to the viewer," he said. "I put them in all of my murals. You have to look closely though, because they are usually small and inconspicuous upon a first glimpse. Red is the color that attracts your eye first."