Meet LeAnn Beckwith, Punta Gorda Librarian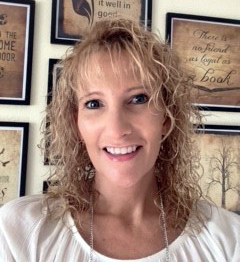 I come from a family of entrepreneurs who understand the value of hard work and responsibility. As a teenager, I took over bookkeeping for the family business, which naturally led me to the accounting field. After acquiring a job as manager of an income tax and accounting office, I decided to obtain my associates degree in accounting. My love of learning led me to continue my education, earning a bachelor's degree in business.
Around this time, I met with the former librarian from my hometown and she inspired me to continue on to library school. In 2011, I earned my Master of Library and Information Science degree with a Graduate Certificate in Information Management from Wayne State University. While obtaining my master's degree, I volunteered at two public libraries and job shadowed at an academic library. Volunteering gave me invaluable experience that I utilized to gain employment as library clerk at the Hillsdale Community Library. As clerk, I was responsible for circulation, reference, interlibrary loan, and patron computer/technology services. I created and lead instructional demonstrations, held basic computer classes, and helped patrons one-on-one with their technology needs.
After just two years of employment, I was promoted to library director, taking on funding challenges and exploring new concepts to improve library accuracy and efficiency. I was responsible for collection development and cataloging, creating and presenting the budget to the library board and the city council, staffing, purchasing and invoicing, as well as helping patrons on a daily basis.
Now in Punta Gorda, I believe the role of a librarian must continually expand to meet the informational, educational, technological, and recreational needs of the community served. I look forward to meeting those needs here in my new community.